ধর্মীয় আইনে ধর্ষণের শাস্তি : একটি তুলনামূলক পর্যালোচনা| The Punishment of Rape in Religious Laws : A Comparative Discussion
Keywords:
Adulterer, Rape, Religious Teachings, woman rights, নারী অধিকার, ধর্মীয় অনুসাশন
Abstract
Rape is a horrendous form of violence against women. Women have been victims of rape since prehistoric times. Evidence of rape is found in all countries of both the developed and underdeveloped worlds. Women are being attacked everywhere at home, in educational institution, on road and at workplace. From three-year-old children to one-hundred-year-old women, none are safe from rapists. But in all religions of the world, rape is a reprehensible and punishable crime. In the present article, the provisions and rulings of the world's major religions (Hinduism, Buddhism, Judaism, Christianity, and Islam) regarding rape have been stated and thereby a comparative discussion has been offered. In producing the essay, descriptive analytical and comparative research methods have been adopted. The article demonstrates that religious adherence and observance both in individual  and in society and state levels would be one of the most effective ways to prevent rape and cure the society.
সারসংক্ষেপ : ধর্ষণ নারীর প্রতি সহিংসতার এক ভয়াবহ রূপ। গ্রাগৈতিহাসিক কাল থেকেই নারী ধর্ষণের শিকার হয়ে আসছে। উন্নত-অনুন্নত পৃথিবীর সব দেশেই নারীকে ধর্ষণ করার প্রমাণ পাওয়া যায়। নারীরা বাড়ি, শিক্ষাপ্রতিষ্ঠান, রাস্তা-ঘাট, কর্মস্থল, সর্বত্র আক্রান্ত হচ্ছে। তিন বছরের শিশু থেকে শুরু করে একশো বছর বয়সী বৃদ্ধাও ধর্ষকামীদের হাত থেকে রেহাই পাচ্ছে না। অথচ বিশ্বের সকল ধর্মেই ধর্ষণ নিন্দনীয় এবং শাস্তিযোগ্য অপরাধ। বক্ষ্যমাণ প্রবন্ধে ধর্ষণ বিষয়ে বিশ্বের প্রধান প্রধান ধর্মের (হিন্দু, বৌদ্ধ, ইহুদী, খ্রিস্টান, ইসলাম) বিধান উল্লেখপূর্বক সেগুলোর তুলনামূলক আলোচনা করা হয়েছে। প্রবন্ধটি রচনার ক্ষেত্রে বর্ণনা, বিশ্লেষণ ও তুলনামূলক গবেষণা পদ্ধতি অনুসরণ করা হয়েছে। প্রবন্ধ থেকে প্রমাণিত হয়েছে যে, ধর্ষণ প্রতিরোধ ও প্রতিকারে ধর্মীয় অনুশাসন পরিপালন এবং সমাজ ও রাষ্ট্রে ধর্মের অনুসরণ অন্যতম কার্যকর উপায় হতে পারে।

References
Al-Qurān al-Karīm
Abū Dāwūd, Sulaimān ibn al-Ash'ath al-Azdī al-Sijjistanī. 2010. Al-Sunan. Jeddah: Dār al-Minhāj.
Al-Bukhārī, Abū ÔAbdullah Muhammad ibn IsmaÔil. 2002. Al-JamiÔ al-Sahīh. Riyadh: Dār Al-Arkam.
Ali, Dr. Ahmad, 2009. Islamer Shasti Ain, Dhaka : Bangladesh Islamic Center.
Al-Jassās, Abū Bakr AÔmad ibn ÔAlī Al-Rāzī.1996. Ahkām alQur'an. Annotated by: Muhammad Sādiq Qamhawī. Beirut: Dār Ihya al-Turāth al-ÔArabī & Muassasāt al-Tārikh Al-ÔArabī.
Al-Sābūnī, Muhammad 'Alī, 2007. Rawā'i al-Bayān fī Tafsīr Āyāt al-Ahkām. Cairo : Dar al Sabuni.
Al-Sarakhsī, Shams al-Dīn Abū Bakr Muhammad ibn Abī Sahl. 2000. Al-Mabsūt. Beirut: Dār Al-Fikr.
Awdah, Abdul Quader, 1419 H. At-Tashri Al- Zinai, Beirut: Muassasah al-Ris alah.
Balik, Allama Ijjuddin, 2015. Minhajus Salehin, Dhaka : Islamic Foundation Bangladesh.
Biswas, Shoilando, 1998. Samsangd Bangla Ovidhan, Kolkata : Sahityo Samsangd.
Chakma, Shiri Bankim Chandra, 1975. Triratna Manjuri, Chittagong. NP.
Etienne G. Krug, Linda L. Dahlberg, James A. Mercy, Anthony B. Zwi and Rafael Lozano(Edited). 2002. World report on violence and health, Geneva : World Health Organization.
Haque, Dr. Muhammad Enamul & Others (edited), 2005. Bayaboharik Bangla Ovidhan. Dhaka : Bangla Academy.
IBn Anas, Abū ʿAbd Allāh Mālik, 2001. Al-Muwaṭṭaʾ, Translated by Islamabadi, Muhammad Rezaul Karim, Dhaka : Islamic Foundation Bangladesh.
Ibn Mājah, Abū ÔAbdillah Muhammad ibn Yazīd al-RabÔī AlQazwīnī. 1998. Al-Sunan. Annotated by Bassār ÔAwwād MaÔrūf. Beirut: Dār al-Jail.
Ibn Mājah, Abū ÔAbdillah Muhammad ibn Yazīd al-RabÔī AlQazwīnī. 2014. Al-Sunan. Dhaka : Al Maktabatul Islamiah.
Ibn Manẓūr, Muḥammad ibn Mukarram ibn Alī ibn Aḥmad ibn Manzūr al-Ansārī. N.D. Lisān al-ʿArab. Beirut: Dār Sādir.
Khalil, Dr. Md. Ebrahim, 2019. Bishower Prodhan Prodhan Dhormo, Dhaka : Merit Fair Prokashon.
Makdur, Dr. Ibrahim, 1972. Al-Mujam al-Waseet, Delhi : Hussainiya Kutubkhana.
Manubendu Bandyopadhyay, 1412 Bang Manusanghita, Calcutta, India: Country
Musa, Mawlana Muhammad & Haque, Md. Mojammel, 2018. Bidhiboddho Islami Ain, Dhaka : Islamic Foundation Bangladesh.
Nasrin, Shamima, 2019. Samajik Jibone Pali Sahitye Bornito Shiler (Bidhi-Bidhan) Prayogik Bisleshon, Phd Thesis. University of Dhaka
ÔAbd Al-Razzāq, Abū Bakr Ibn Hammam Ibn Al-SanÔānī. 2000. Al Musannaf. Annotated by Aimān Nasr' al-Dīn al-Azharī. Beirut: Dār al-Kutub al-ÔIlmiyyah.
Patwari, Dr. Momtajuddin & others, 2014. Bangladesh Studies, Gazipur : Bangladesh Open University.
Petrak, Jenny, Barbara (Editors) 2003. The Trauma of Sexual Assault Treatment, prevention and practice. Chichester: John Wiley & Sons Prokashoni.
Rahman, Dr. Muhammad Fazlur, 2004. Bangla-English-Arbi Bayaboharik Ovidhan. Dhaka : Riyad Prokashoni.
Rahman, Dr. Muhammad Fazlur, 2013. Arbi-Bangla Bayaboharik Ovidhan. Dhaka : Riyad Prokashoni.
Rahman, Dr. Shafiquer, 2019. Bangladesher Ain Bicar Baybostha & Sambidhanik Kromobikash. Dhaka-Chittagong : Kamrul Book House.
Sabeque, Sayed, 2015. Fiquehus Sunnah, Translated by Akram Faruque & Abdus Sahid Nasim, Dhaka : Shatabdi Prokashoni.
SaÔi, Muhammad Na Ôīm Muhammad Hānī. 2008. Mawsū Ôat Masāi'l al -Jumhūr fī al -Fiqh. Cairo: Dār al -Salām.
Smith. ed. by Merril D. 2004. Encyclopedia of Rape, Westport: Greenwood press
Sri Shivshankar Chakraborty, 1999. Srimadbhagavadgita, Dhaka: Ananda Prakashani
Tirmidī, Imam. 2008. As-Sunan. Riyadh: Dār al-Salām.
Translators, 1992. Injil Sharif (Bengali and English translation) Dhaka: The Bangladesh Bible Society
Translators, 2000. Holy Bible (Old and New Testament) Dhaka: Bangladesh Bible Society
Translators, 2018. Holy Tripitaka, Bangladesh: Tripitaka Publishing Society
Newspaper
Ain o Salish Kendra, 2020. Accessed Nov. 2020. http://www.askbd.org/ask/2020/10/06/violence-against-women-rape-jan-sep-2020/
Aldin, Anwar, 2015. Dhorshoner Talikay Shirshe Juktorastho, Europee 47 Vag Nari Jouno Nirjatoner Shikar, Ittefaq, 7 July, p. 1
Anandabazar Patrika, 2016. Dhorshone Shirshe Thaka Dosh Desh, Kolkata : 26 February. Accessed Nov. 2020. https://www.anandabazar.com/photogallery/picture-gallery-of-top-10-countries-with-rape-crime-dgtl-1.318860
Bonikbarta, July 13, 2021. https://bonikbarta.net/home/news_description/269025/ ধর্ষণের-ঊর্ধ্বমুখী-প্রবণতা-ও-সামাজিক-সংস্কৃতির-অবয়ব
De, Shosangker Kumar, 2020. Dhorshoner Shasti Deshe Deshe, Janakantha, 14 October, P. 1
Inqilab Desk, 2020. Proti 16 Minutee Ekjon Dhorshito Varote : NCB, Inqilab. 4 October, P. 6
Nain, Julkar & Munna, Arafat, 2020. Deshe Deshe Kathor Shasti : Ain Songskar Kore Mrityodonder Dabi Bangladeshe, Bangladesh Protidin, 7 October, P. 1
Online Desk, 2016. Bishwe Dhorshone Prothom Dosh Desh, Janakantha, 27 October, Accessed Nov. 2020. https://www.dailyjanakantha.com/details/article/225967/বিশ্বে-ধর্ষণে-প্রথম-১০-দেশ
Prothom Alo, 2020. Protidin Tintar Beshi Dhorshoner Ghotona, 5 October, Accessed Nov. 2020. https://www.prothomalo.com/bangladesh/crime/প্রতিদিন-৩টির-বেশি-ধর্ষণের-ঘটনা
Wikipedia. 2016. Accessed Dec. 2020. https://en.wikipedia.org/wiki/Rape
World Population Review, 2021. Accessed June. 2021. https://worldpopulationreview.com/country-rankings/rape-statistics-by-country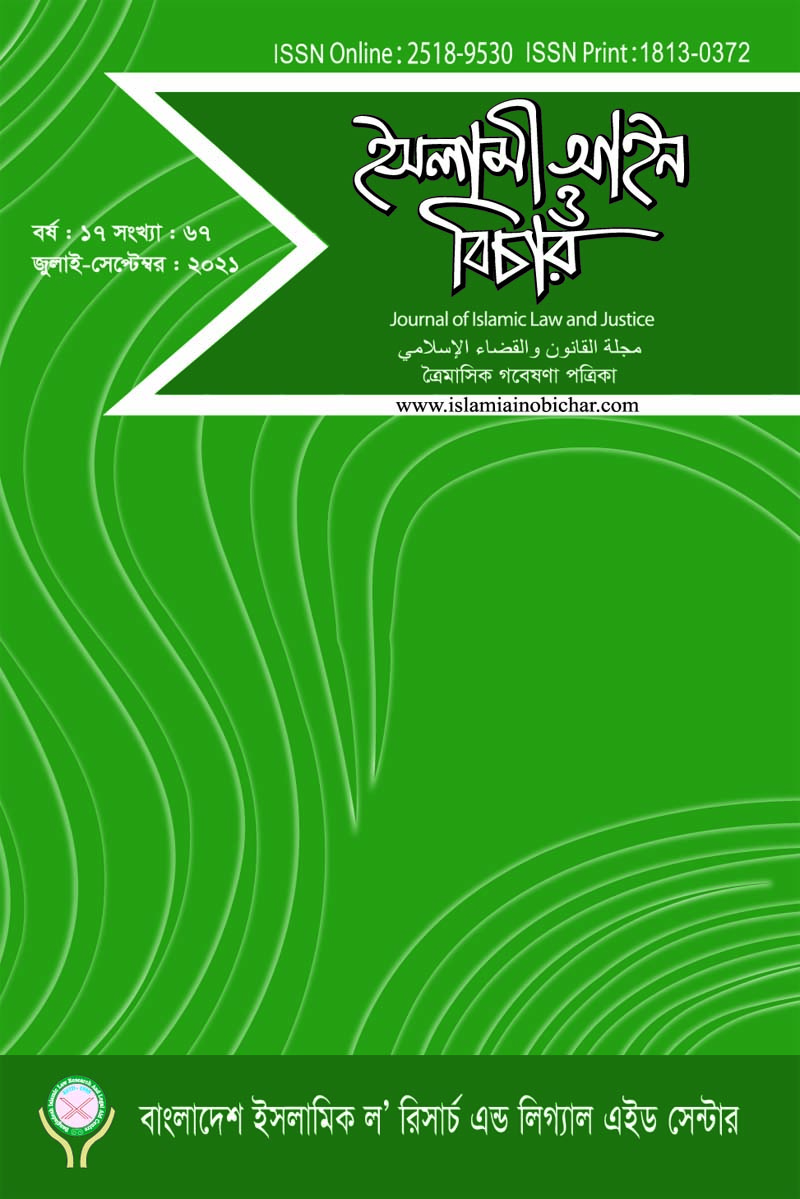 Downloads
License
Copyright (c) 2021 Mohammad Zahidul Islam, Nazmul Islam
This work is licensed under a Creative Commons Attribution 4.0 International License.
How to Cite
ধর্মীয় আইনে ধর্ষণের শাস্তি : একটি তুলনামূলক পর্যালোচনা| The Punishment of Rape in Religious Laws : A Comparative Discussion. (2023).
ইসলামী আইন ও বিচার | Islami Ain O Bichar
,
17
(67), 43-80.
https://doi.org/10.58666/3vavdp11